Discover the Unique Luxury of the Ranch Lifestyle
Nestled on the edge of this intoxicating scene, we've created an oasis of five star luxury for serious Safari seekers. Within our ranch of Mara Bushtops camp, you'll find an exciting blend of tranquility and adventure where you can relax in first class comfort surrounded by one of nature's living masterpieces.
A stunning location
Although in the heart of the wilderness, this Safari paradise is surprisingly accessible, with two nearby airstrips at Siana Springs and Keekorok – just 10 minutes and only a game drive away from the camp – and a choice of direct flights arriving daily from Malindi,  Mombasa, Diani or Nairobi.
Scenic Views from the Top of the World
Perched on top of a hill with a scenic valley to one side, the camp lies just twenty minutes' drive from the main gate of the National Park and within striking distance of the beautiful Mara River where the famous river crossing of wildebeest and zebras takes place during the migration.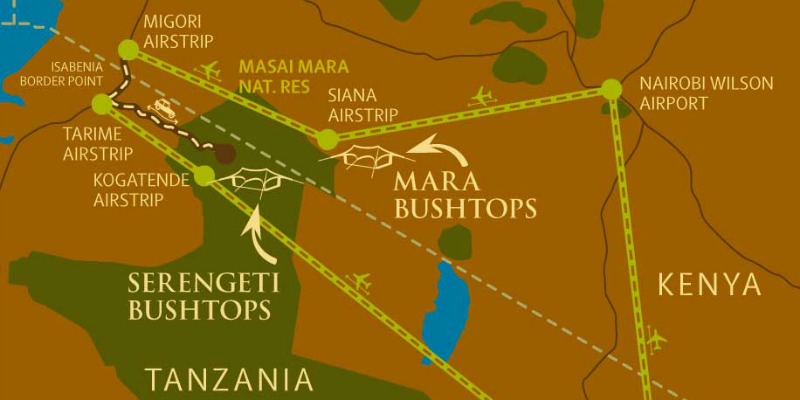 Freedom, comfort and breathtaking views
Wander through a timeless space where natural wooden decking links the sun-drenched outdoors to cool interiors; where fine furnishings reflect the elegance of African culture; and where your luxury tent affords utter privacy, as close to nature as you can get.
Loving nature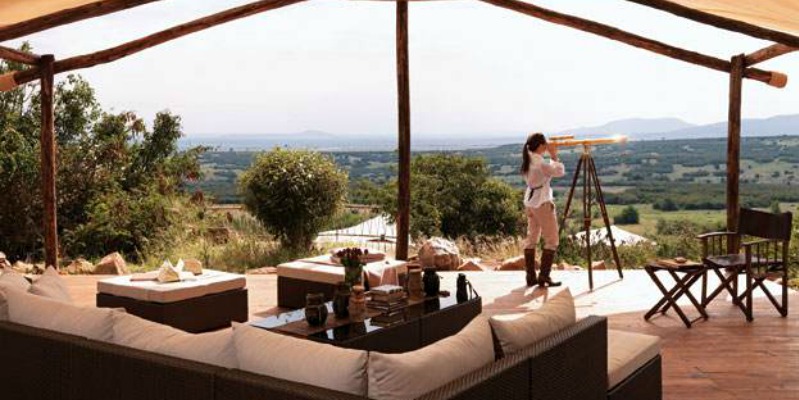 While the camp uses solar power for most of its energy needs, no expense has been spared on the fittings provided in the 12 spacious and fabulously appointed luxury tents, open on three sides to the great outdoors and each with its own special view.
The Leopard suite has two bedrooms, each with its own bathroom, so it is well suited to family life in the bush. Its sunken lounge is the perfect location for an afternoon siesta, while the hot tub on the deck is perfectly placed to view the salt lick and its attendant wildlife.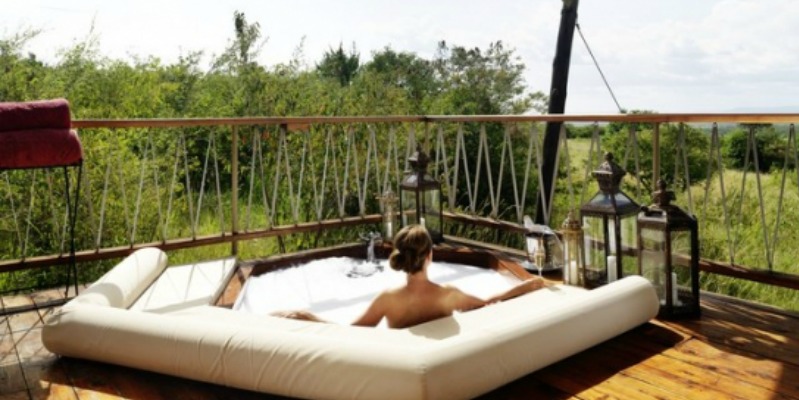 The suite also has a private fire place, wine wall and mini bar. We can add an additional Childs bed in each bedroom which makes it perfect for a family of up to 6.
Thoughtfully designed to the finest detail
Featuring beautiful interiors designed for the ultimate in comfort and convenience, our private accommodation has everything you need for a luxurious stay. While our camp boasts one of the biggest tents in East Africa, it has also been equipped with modern furniture and fittings chosen for their quality and aesthetic appeal.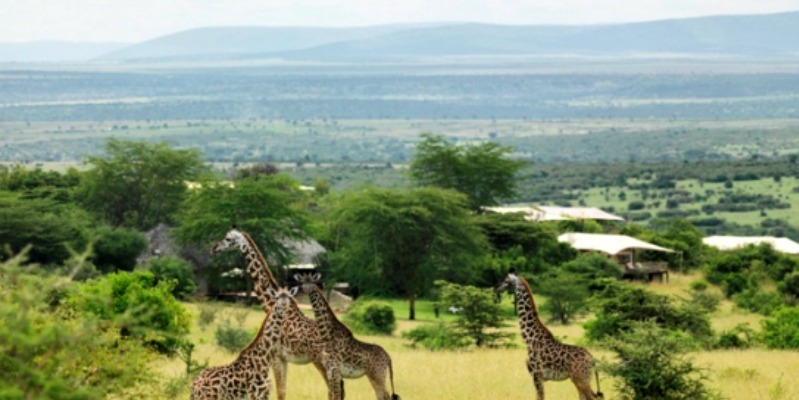 Each tent has large Comfort beds, delightfully fitted en-suite bathroom with indoor and outside shower, a dining table and writing desk for your personal use. 24 hour butler service is available, allowing guests to dine from a mouth- watering a la carte menu in the privacy of their own tent, and a laundry service is also provided on request. There is also 24 hour power supply.
Mara Bushtops welcomes children of 7 years upwards, and we're happy to provide an additional bed in your tent.
Relax in a timeless atmosphere 
 Perched in a uniquely advantageous position on top of a hill, our inviting reception and lounge area offer guests a cool, quiet corner to enjoy stunning views of the Masai Mara, as well as a sociable gathering place in the evening.
Mingling comes easily in this inspirational space, where attractive wooden decking links outside to inside, and our friendly bar provides a refreshing welcome after the heat and excitement of a day's safari.
Enjoy exquisite dining
 No Safari camp is complete without its water hole. And what better time to observe the comings and goings in this wildlife focal point, than over a lavish meal in a superb restaurant?
Our dining room and outdoor spacious veranda overlooks a vibrant scene where an abundance of game comes to drink and bathe throughout the day and evening, and any romantic dinner for two in this dreamlike venue is magically enhanced by our very elegant and friendly service.
Here you can wet your appetite both for game viewing and fine dining at once, selecting from a choice of sumptuous a la carte dishes while the wildlife provides natural entertainment.
Quiet moments
 After an invigorating day out in the wilderness, you can return to the peace of our camp and slip away into your own world and gently unwind.
Our library offers the chance to immerse yourself in a good book to while away a few hours, or you could steal some precious time for yourself with a pampering hot tub or a massage which you can enjoy in the privacy of your tent.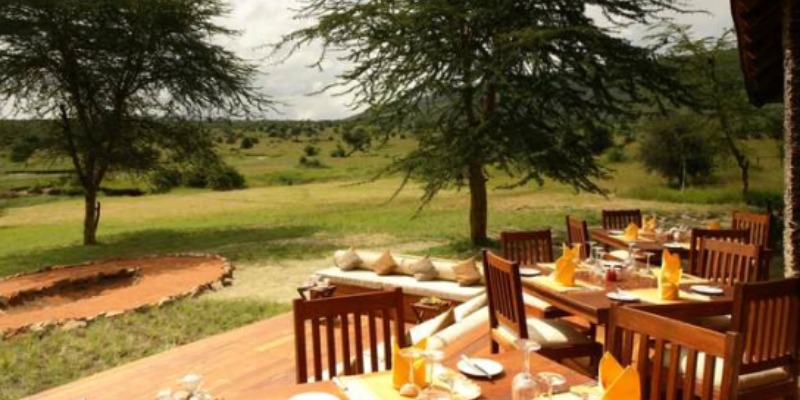 As the sun sets on the glowing horizon, it's the perfect time to absorb the unique atmosphere of our camp fire, sipping a delicious Sundowner cocktail in typical Safari style. But being away from it all doesn't mean you can't stay in touch – we provide easy access to the Internet for our all guests from a convenient point in reception.
More Mara magic
Mara Bushtops offers a whole range of activities from walking safaris, bush picnics, walking on the nearby Sekanani Hills, bird-watching, to cultural outings, themed dinners – including a visit to a Boma –  and story-telling round the camp fire.