Africa is truly blessed by these lands and they are a treasure that will always be protected for generations to enjoy. Therefore,  we could not have found a more wonderful location in this 'extended place' as the Masai call the Serengeti. The camp nestles within the northern sector of the reserve, a UNESCO World Heritage site.  This distinction means that no matter how much time may pass, these lands will be protected and cared for as well as ecologically managed in the best possible way.
Location
With the famous Mara River just 15 miles away, we lie directly in the path of the spectacular annual wildebeest migration, which takes place between June and November."Breathtaking!" That's what our visitors tend to say when gazing out over the romantic expanse of the Serengeti plains, one of nature's most spectacular landscapes which span over 14, 763 square kilometres.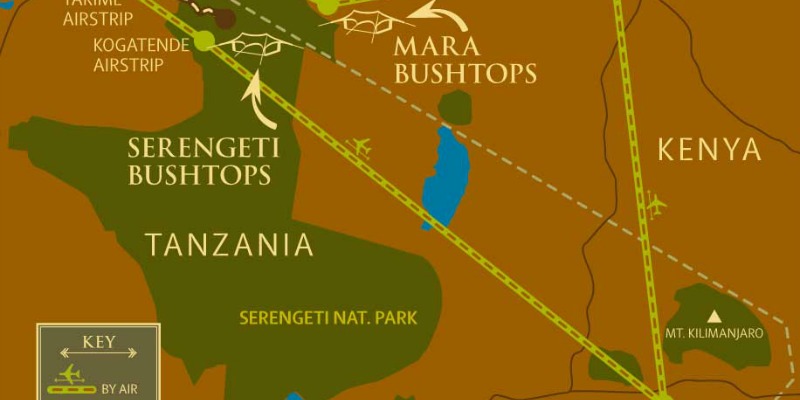 At Serengeti Bushtops we are participants, living in the heart of the ecosystem which supports the greatest wildlife populations in Africa. That means fabulous, abundant wildlife viewing all year round – with a ringside seat for nature's most awesome event
From Serengeti Bushtops we witness life at its most raw, thrilling and captivating, from the awesome grandeur of the big five to the shimmering glory of local birdlife – and from the vast herds of wildebeest, zebras and gazelles to the silent presence of solitary crocodiles.
You will arrive to a warm welcome and a glorious backdrop to the ultimate Safari experience.
Venue
A wonderful location, a great venue and a fantastic experience with a combination of superb food and drink, luxurious accommodation, and a staff who are determined to match and exceed every expectation makes this a truly special venue.  We are truly proud of the over 400 reviews of 5 stars for excellence at TRIP ADVISOR and we have a special affinity for the perfect Honeymoon or Anniversary experience for couples.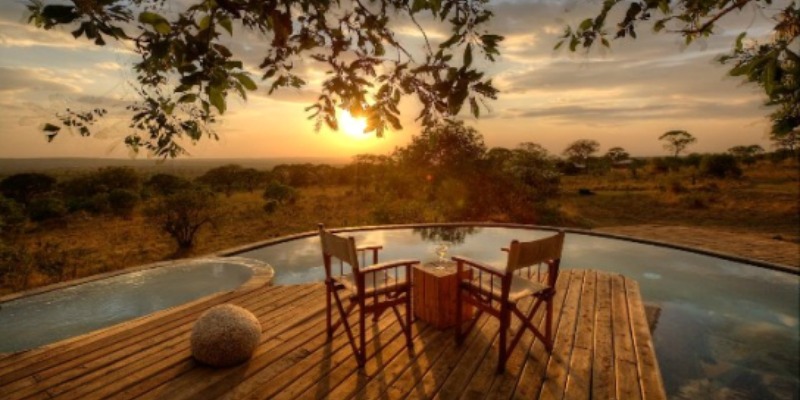 An oasis of five star luxury, blending peace with adventure and first class comfort with unforgettable sights and smells, sounds and sensations.
A massive 120 square meter open-sided living area creates an overwhelming sense of space. With Serengeti Bushtops welcoming anyone aged seven or over, two children's beds can be added to any tent on request, complementing a substantial Comfort bed. One extra bed can be added for a third adult sharing a double tent.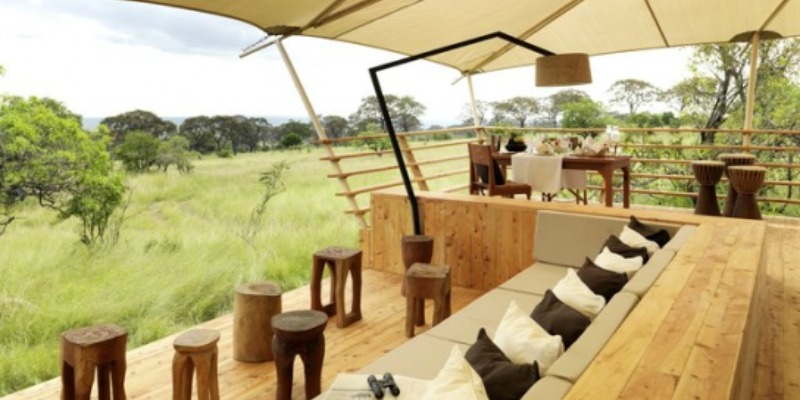 Bedecked with beautiful wooden flooring each tent's lavish facilities include an en-suite shower area, large private terrace, a hot tub, writing desk, 24-hour butler service, 24 hour power, a dining table (if you prefer to eat privately), and complimentary massages in your tent whenever you wish.
Environmental conservation is an essential part of our philosophy and daily good practice. Serengeti Bushtops draws on solar power and underground water sources to meet many of its needs – and we make a point of sharing our technology and resources with local villages.
Experience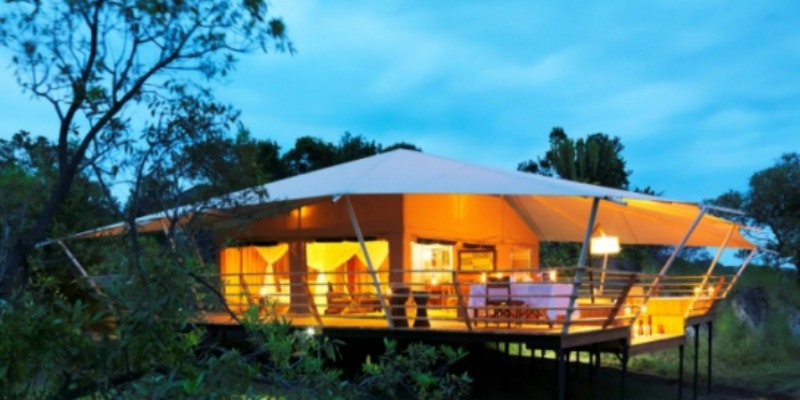 However, the glorious the views and exceptional the venue, we never forget that you are at Serengeti Bushtops for the wildlife. Our goal is to produce a succession of unique, thrilling viewing and complementary activities.
Back at the camp you can relax in serene surroundings, enjoy a complimentary massage, have a cocktail by the fire, or make use of our library and internet facilities.
You may prefer your butler to bring drinks to your tent's private veranda, enjoyed as you soak in your sunken hot water tub. Then perhaps it's time to savour an à la carte gourmet meal within our elegant open-sided mess tent, watching the hot sun go down over the vast Serengeti as you select a fine wine from our "wine wall".
Inspirational, luxurious and as close to perfection as our dedication can make it the Serengeti Bushtops is an astonishing experience.
We look forward to sharing it with you.