Ever wanted to go to Scotland with a couple of great friends to show you the way around? BONUS:  the friends have some celebrity  pull as they are celebrities?  Well, that's what you'll get with MEN IN KILTS the new series on STARZ networks.  The series stars two of the world's most famous scotsman, Sam Heughan and Graham McTavish.  They will take you with each episode through a Scottish traditions from the song and dance to the food and whiskey.  Did we mention its hilarious watching Sam try to try Scottish dancing?  Or, watch Graham and Sam luxuriate in the food, cuisine and drink, especially the Whiskey factory we are not sure Sam is ever leaving.  Traveling by van on the road trip these two gentlemen are clearly good friends and used to giving each other the punchlines.   Graham will not let his co-star get away with much and this is part of the fun.  The food looks delicious and the nature and views are also amazing.  All the guests along the way are providing great travel inspirations so  the show is worth an evening if you want to binge or just watch one every week.  Outlander fans will also notice a liberal sprinkling of great Sam and Graham moments from the series that also adds to the fun.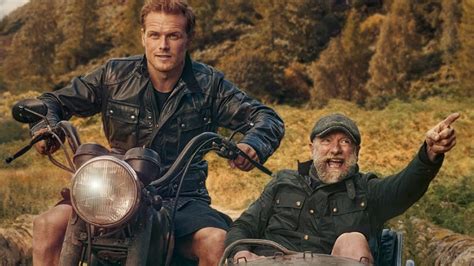 Here is a hilarious link to a Cooking Segment with Sam in the Kitchen and Graham looking on as they prepare a delicious scottish dessert with Sam's Whiskey.
We also offer a lovely look at the series, here in this trailer for the series,  so enjoy, sit back and follow the boys as they wind their way through SCOTLAND on the best road trip of 2021.
Happy Trails  Folks!