Hawaii's color of choice is turquoise. Turquoise is around every corner especially when you are gazing out to sea. I would like to inspire you to travel to Hawaii and discover the best things to do in Oahu. Are you ready?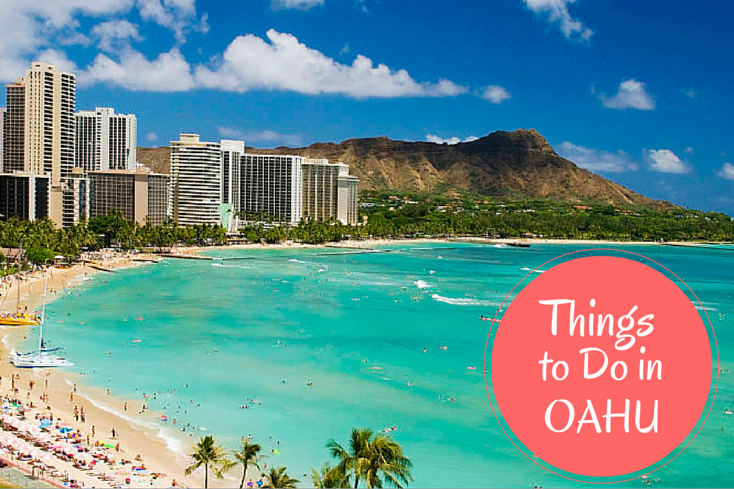 Things to Do in Oahu
Sleep in Paradise on the East Coast
During my time in Hawaii, I fell in love with Lanikai Beach on the Eastern shore of Oahu. Although every beach on Oahu has something unique to offer I couldn't help but love Lanikai a little bit more than the others.
Its calm turquoise clear water was the perfect place to swim, snorkel, or to just wade in the warm shallow water. Walking along the powder white sandy beach for sunrise with the Nā Mokulua islands in the background was beyond anything I have seen before.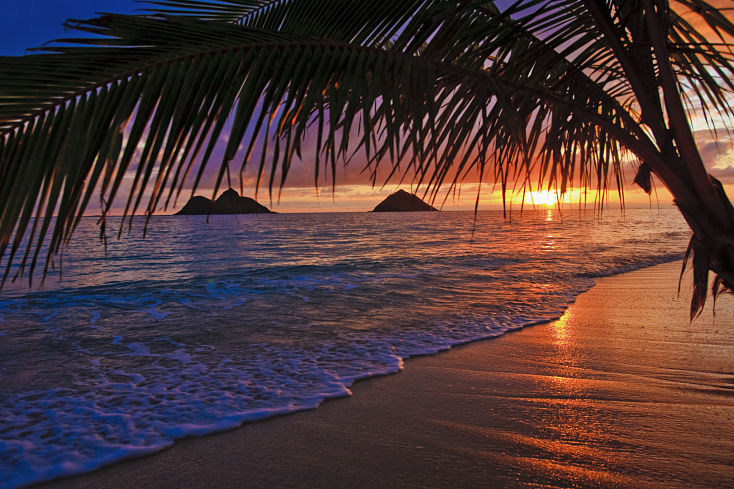 Hiking Pillbox for sunset to see the sun magically disappear behind the mountains was tranquil and enlightening. It is no wonder why I love Lanikai. What made my Lanikai experience even better was staying 30 yards from the most beautiful beach on the island at Lanikai Studios.
With the nearest stores and amenities being a short drive (walk or bike ride) away in Kailua town, Lanikai is the perfect getaway retreat to escape from the hustle and bustle.  With Lanikai Beach being a community beach there are no public restrooms/shower facilities or food vendors on the beach. Be prepared to walk to the next nearest beach: Kailua Beach Park for public facilities.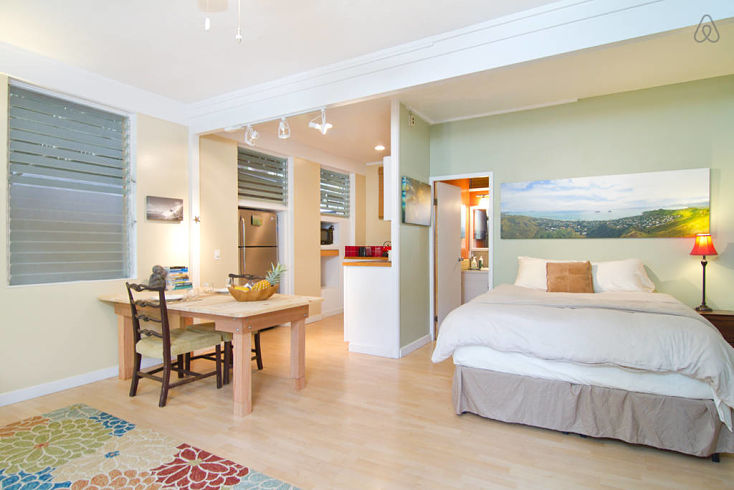 The beach has limited road side parking. With a designated bike path throughout Lanikai, biking to Lanikai Beach makes for an excellent day trip from Kailua. Parking at Kailua Beach Park and walking to Lanikai Beach is always an option, plus the walk to Lanikai is spectacular.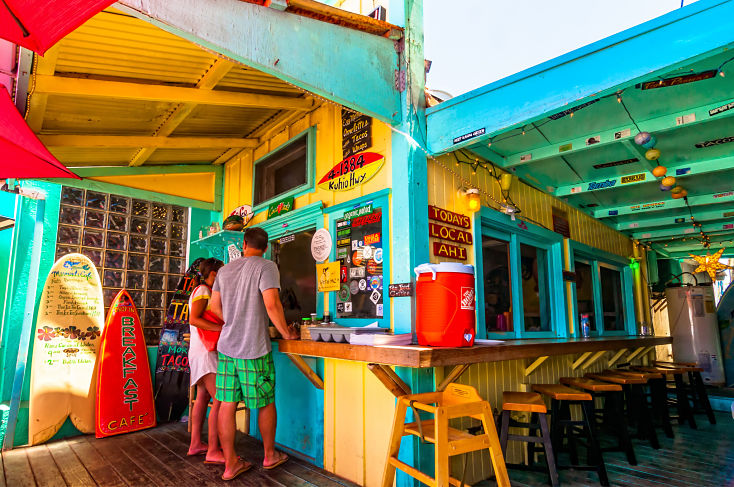 Part of what I love about Lanikai Beach is that is no commercial activity on the beach, few tourists, and no public buildings. It's what keeps Lanikai Beach natural, pristine, and beautiful. During the weekends tourists flee to Lanikai Beach to enjoy its wonder, yet during the week Lanikai Beach is quiet and with few people around. Rather than commuting to Lanikai Beach I opted to stay at the beautiful and modern Lanikai Studios.
Indulge in a Maita'I on the Southern Coast– Not the drink, the Catamaran
Hawaii is known for its Maita'i's, yet my experience with Maita'i was not from a drink, but from an experience with Maita'i Catamaran.
Hawaii is known for its snorkeling and ocean adventures and I didn't want to miss my chance to fully experience Hawaii by being on and in the water. Maita'i Catamaran's state of the art twin hulled sea vessel got my hair blowing in the wind and had me relaxing under the late morning sun.  Maita'i means excellence in Tahitian and Maita'i Catamaran exemplifies just that.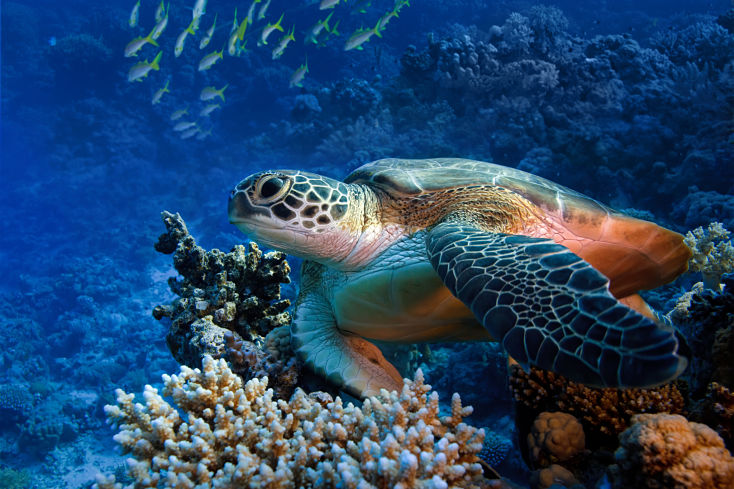 After a short sail from Waikiki aboard their 44 foot catamaran we arrived at Turtle Canyon, a famous diving spot off the Southern shore of Oahu. For what seemed like hours, I had the opportunity to snorkel at an amazing place on the islands that is filled with lovely wildlife. 
I saw thousands of brightly colored tropical fish and over a dozen green sea turtles (there were so many I couldn't keep track of how many I saw). It was incredible watching the turtles surface for a breath, pop their heads out of the water, and descend back to the depths of the turquoise sea.
With no worries in the world, the sea turtles swam by me as if I wasn't there intently watching them from a few feet away. Hawaii really is a dream destination where I could accomplish so many of my bucket list items.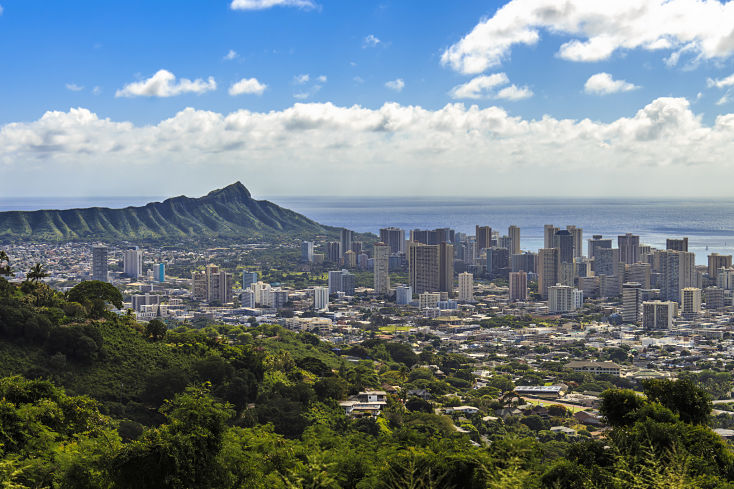 After the snorkeling portion of the tour was over we set sail aboard the cat while listening to traditional Hawaiian island songs. The catamaran quickly sliced across the water with its turquoise sails up cutting through the trade winds for full speed ahead.
With the warm sun on my shoulders and the cool wind on my face I was in heaven. During the sail, I was able to get an incredible view from the water of Waikiki, Honolulu, Diamond Head, and the glistening turquoise water around me. With a cold refreshing Hawaiian guava juice in my hand you could say that I felt right at home.
Swim with Sharks in the North Shore Oahu
I have a huge love for the ocean and a fascination for its creatures. Nothing says marine life experience better than swimming with Galapagos Sharks in Haleiwa, Hawaii with a tour called NORTH SHORE SHARK ADVENTURES. 
North Shore Shark Adventures shark encounter begins at Haleiwa Small Boat Harbor to sail 3 miles from Haleiwa Bay to the deep blue waters off the North coast of Oahu. The anticipation of leaving the boat to enter the cool water to meet the Galapagos Sharks face to face was both thrilling and nerve wrecking.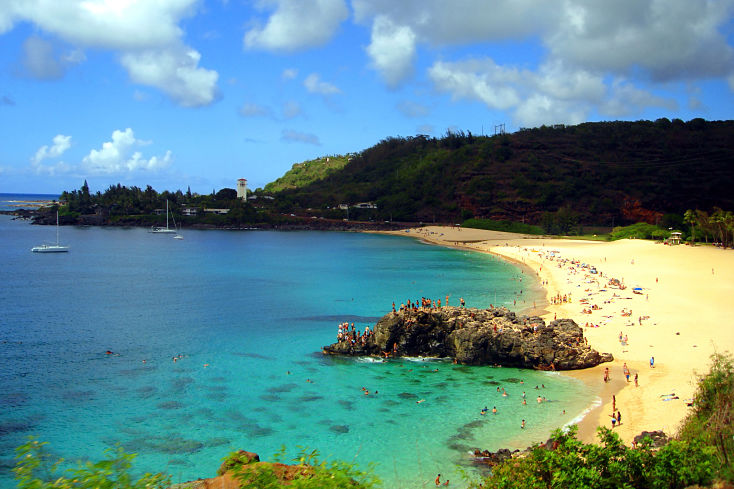 Once the boat reached its off-shore destination, I immediately saw large dark figures swimming just under the water's surface around the boat. I was anxious and excited to get into the tank to face the beasts.
Although scary, I've always been curious about sharks and I was extremely excited to see them up close. The Galapagos Sharks live miles off the North coast of Oahu in the deep waters naturally. The sharks most typically seen on the tour include the Galapagos Shark and the full of attitude Grey Reef Shark (less common but sometimes spotted are the Sandbar Shark and Hammerhead Shark).
North Shore Shark Encounters do not 'bait' the sharks nor 'chum' the water to attract the sharks. The sharks naturally swim curiously around the tour boat thinking it is a common shrimp boat.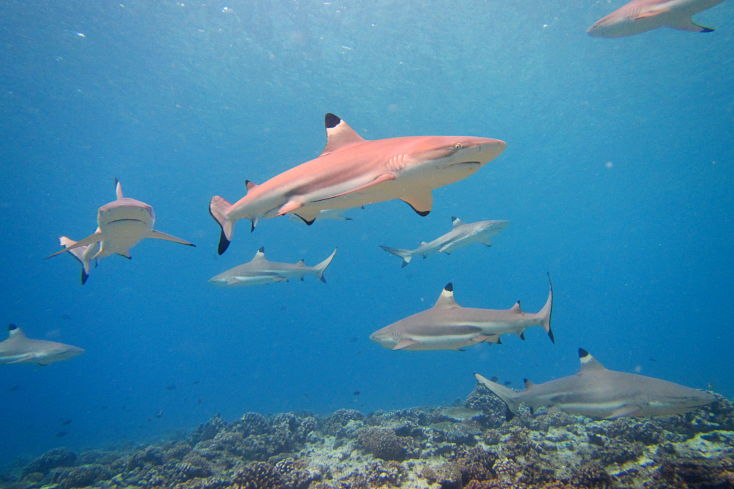 Knowing that North Shore Shark Adventures do this every day made me feel more confident about knowingly getting into shark infested waters. Once I entered the shark tank and put my head below the surface I immediately saw a dozen or more sharks swimming calmly around the tank. I couldn't believe my eyes!
Was I really up close and personal with a 12 foot shark? As I moved around the tank looking around in every direction I saw the beautiful (yet slightly scary) creatures swimming effortless around me. There is something about sharks that makes them so mysterious and intriguing. I didn't want to ever leave the tank. I could have stayed there forever observing the misunderstood creatures.
Do Sunset SUP on the North Shore
My new favorite water sport is now Stand Up Paddling, otherwise known as SUP! I'm ready to go out and buy my very own stand up board! I'll be sure to also buy a wetsuit which I will need to wear during the colder months in Canada.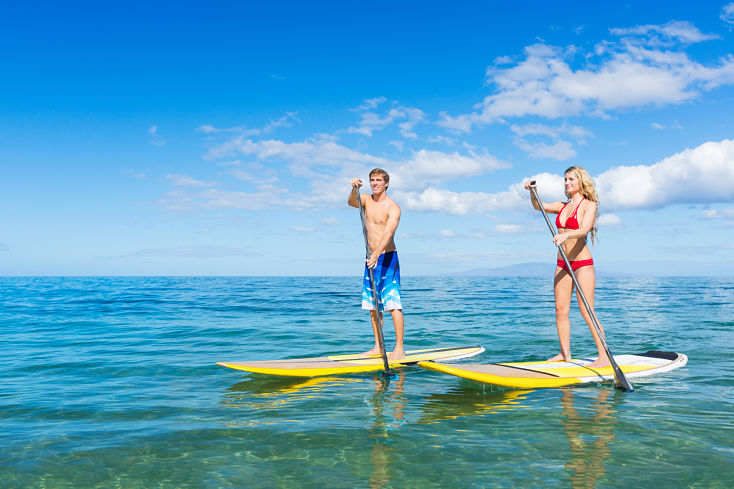 I tried SUP for the first time in Haleiwa, on the North Shore of Oahu with Rainbow Watersports Adventures during their sunset paddle. With my lesson beginning at Haleiwa Beach Park two hours before sunset, the sea turtles were active all around me as I made my way to one of Oahu's most beautiful rivers. I could relax throughout my the two hour lesson because it took place on a protected bay and calm stream; I didn't have to worry about the waves crashing down on me during this experience.
Rainbow Watersports Adventures began in 2008 and is known as the original stand up paddle school on Oahu's North Shore because the founders, Nate and Heidi Burgoyne, have been long time investors in the sport. Both Nate and Heidi have taught people from all over the world how to stand up paddle. Their enthusiasm for the sport is contagious, that's probably part of the reason why I was hooked on SUIP from the moment I stood up on the board.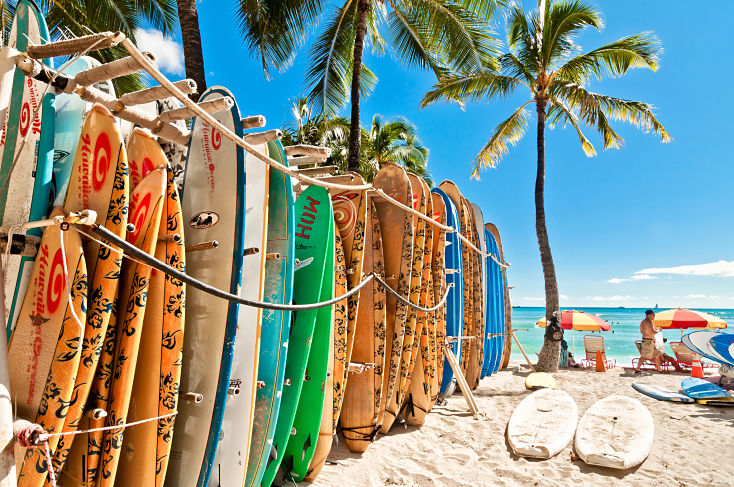 I paddled 2 miles throughout the first lesson and I could have continued for hours. SUP is an excellent full body workout, yet you can go at your own pace and make it what you want. I couldn't have asked for a more positive experience trying SUP for the first time.
Swim with Wild Dolphins on the West Coast
Wild Side Specialty Tours gave me the experience of a lifetime. With their Best of the West tour I was taken on a three and a half hour journey beyond what I could have ever imagined.
The semi-private custom tour leaving the Waianae Small Boat Harbor just after sunrise on the 34 foot powerful Alaka'i provided me an opportunity to see wild dolphins in their natural habitat. Not only to see wild dolphins, but to have an opportunity to swim with the dolphins.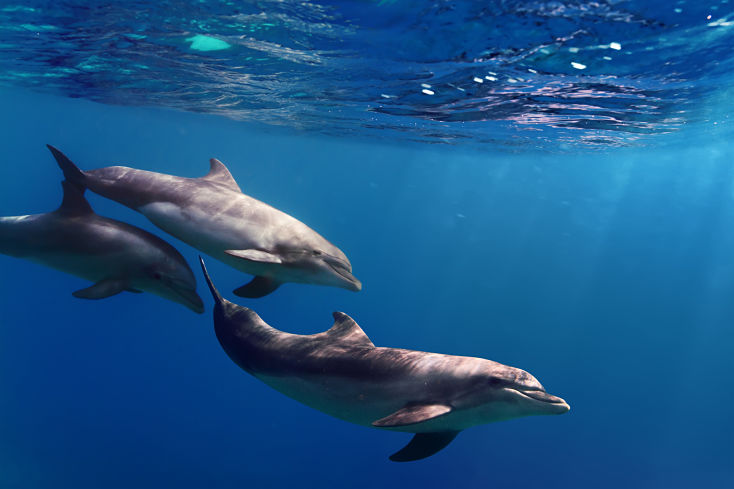 The beauty of seeing baby spinner dolphins swim hyperactively alongside their mothers while showing off for the boat is beyond words. I can't even count how many dolphins I saw. From every direction, I was amazed by the beautiful creatures racing alongside the boat.
The dolphins were dancing in the water and doing acrobatics in front of the bow. I can't truly express the experience I had with Wild Side Specialty Tours because it literally left me speechless.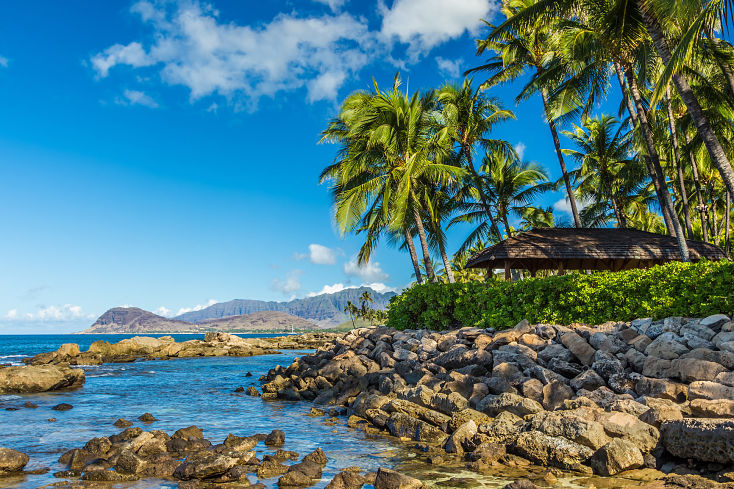 The view of the Western coast of Oahu from a distance was incredible. With no hotel in sight, all that can be seen are the sacred Hawaiian mountains meeting the ocean's waters. With the sun glistening on the calm water and the dolphins swimming alongside us, there was no place I would rather be.
Wild Side raises awareness about sustainable marine tours and provides their passengers with an enlightening interactive tour. All tours are in small groups which enhances the experience with the marine life.
Swimming with five wild spinner dolphins off the coast of Waianae in Hawaii was both magical and heavenly. I love being in the sea and I especially love observing the ocean's marine life. It's as if I connect with the ocean and its creatures better than I do with people on earth.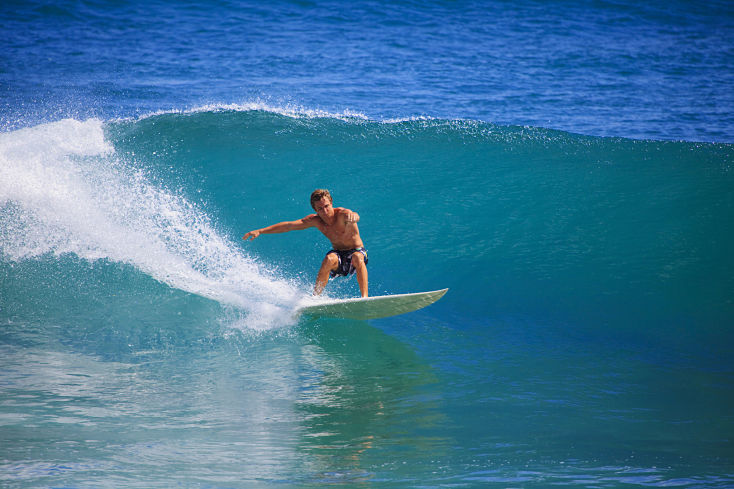 There is nothing better than being a part of the aquatic world by being welcomed into a pod of wild dolphins–my new best friends. I swam quickly and as "dolphin-like" as possible to keep up with them. I didn't want the experience to ever end. This is an experience I will have forever.
Discover all these things to Do in Oahu was a dream come true. If you want to explore Hawaii, don't forget to visit Oahu!

Now we'd love to know about you

: Have you been to Oahu? Tell us your experience there!
If you liked this post, please

share with your friends!

Thank you!