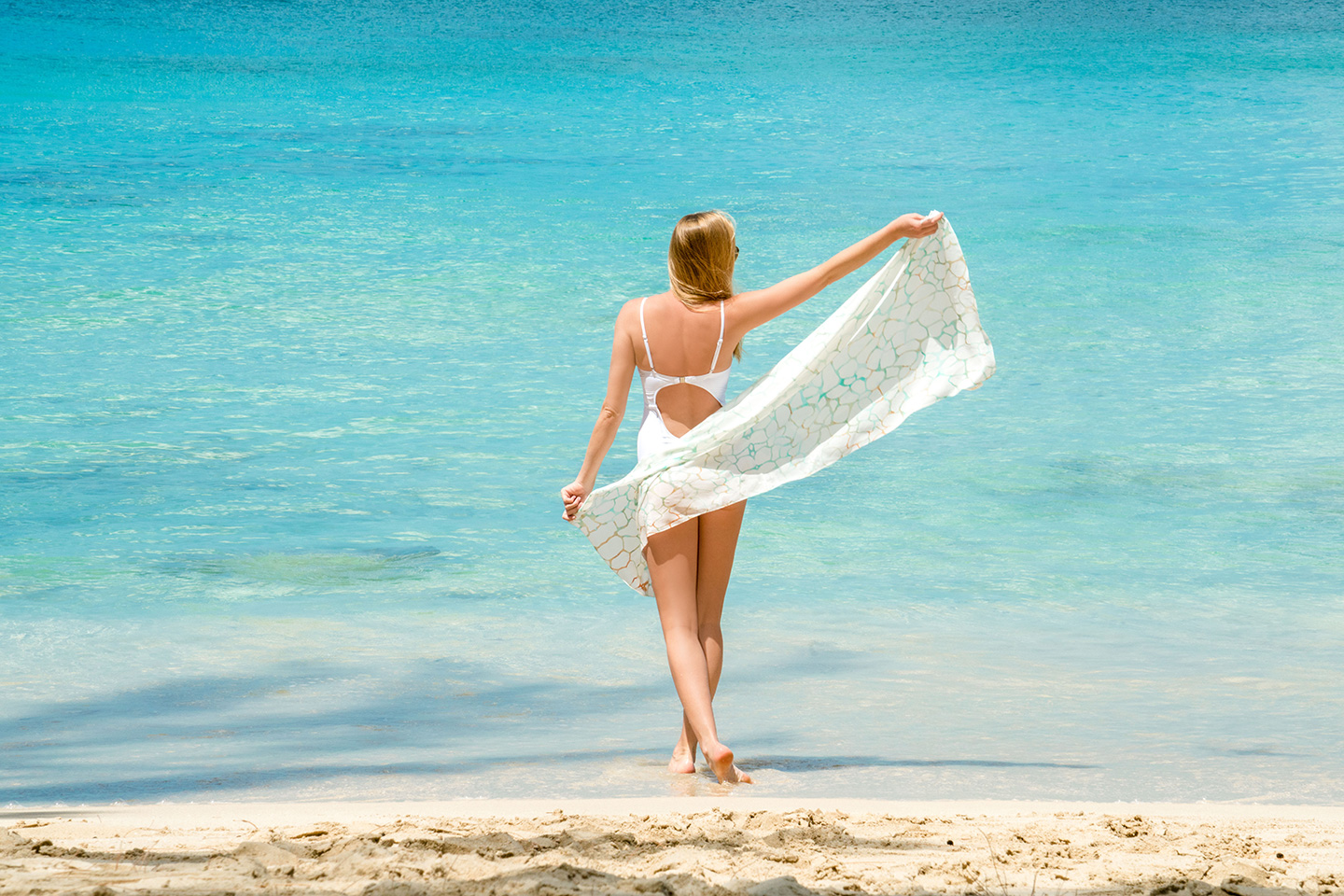 We also invite you to discover, to learn, to connect: Two contrasting worlds. One unforgettable experience.
Across the ocean a young child races across the shoreline. A rainbow-coloured kite trailing behind. The wind picks up. He pauses. The kite caught in the breeze, darting from left to right. Deep purple, lurid greens flicker against a backdrop of white and aquamarine. His eyes tightly focused, his smile a picture of perfect happiness.
At The Sun Siyam Iru Fushi we invite you to let go of your worldly concerns and simply enjoy the moment – on you own, with your partner, with your family. To soak up the stunning environment of our 52-acre island, revel in the luxuries of our traditional Maldivian villas, indulge in mouth-watering cuisine across our 11 restaurants, and experience our diverse array of leisure activities that will see you speeding across the ocean's surface and delving beneath its depths.
Iru Fushi is just the start of your journey. Beyond lie the unspoilt islands of Noonu Atoll, where Maldivian life continues as it has done for centuries. Where boat builders work in meticulous fashion, sanding back wood to reveal a silken finish; children learn about the precious species that give the Indian Ocean its compelling allure; elders farm fruits and organic vegetables shared at their own tables – and at those of nearby resorts.
Email our booking team at:  [email protected]  – CALL OUR VIP DESK (646)  367-1423 Use CODE 00963 for booking.  You can enter our SLH CLUB with discounts, perks and amenities on booking.
ACCOMMODATION Descriptions
Beach Villa
An escape and yet an immersion, freedom to discover, connect. The natural beauty of the Maldives reflected in the unending panorama of ocean – and in the smiles of the people who call it home.
Wandering along palm-fringed sandy paths, children running ahead as they pick up the trail of a Hoopoe or hermit crab, hoping for an up-close encounter. Taking a solitary dip in the privacy of your pool, the rays warm as you raise your face to the sun. Laughter-filled evenings dining on the beach or in your sala, an array of exciting cuisines to discover. Enjoying the simple pleasures of island life.
Ideal for a family with small children, the Pool Beach Suite can be divided into bedroom and separate living area, with the private pool accessible only through the bedroom. An outdoor covered terrace with plush daybed overlooks your private sala, perfect for taking in the island's beauty and only steps away from the beach. The outdoor bathroom with double vanity, indoor and outdoor rain shower and spa tub also features a canopied daybed raised just above the pool's edge, magically romantic and peaceful in the evening candlelight.
Water Villa
A few steps from island to overwater, doors opening to reveal a panorama of ocean. Little skips across the sundeck, followed by squeals of delight as the children realize this is their own pirate paradise.
A few steps from island to overwater, doors opening to reveal a panorama of ocean. Little skips across the sundeck, followed by squeals of delight as the children climb into the clear, calm lagoon, discovering new wonders throughout the day. Basking in tropical rays in your lava-stone infinity pool, and then the cool of inside. Space to be alone, spaces to be shared. Your world to enjoy.
With only five Infinity Water Suites at the resort, indulge in spacious accommodation with a master bedroom and separate living areas. Bathe al fresco with a standalone spa tub facing the ocean and an overwater shower as well as indoor rain shower. Sliding doors from the bedroom, living room and bathroom open onto a multi-tiered sundeck and private infinity pool reaching out over the lagoon and beyond. In one corner a shaded sala invites quiet moments, while a small dining area allows you to enjoy the intimacy of In-Villa Dining.
Retreat
Anticipation as you carefully tread across the stepping stones of the Zen pond, the sound of water trickling. Hand-carved doors slowly pushed open to reveal a sprawling wonder – days of exploration and bliss await. Run across your private lawn to dive into the ocean just steps away, surreally clear and then sky blue. Emerge to discover a pair of majestic Grey Herons silhouetted against the skyline. Experiences that take your breath away – both above and below the water's surface.
A sweeping oceanfront playground hidden amidst lush foliage, the two-storey Celebrity Retreat houses three bedrooms catering to parties of up to ten. Both downstairs bedrooms boast an outdoor bathroom set in its own courtyard, the master bedroom with the added surprise of a private swimming pool and sala. As with all rooms in the residence, the third upstairs bedroom has its own terrace with sunloungers. Ample living space is spread over two levels, with a lounging area leading out onto the main deck and large swimming pool complete with overwater sala, while upstairs another living area with wrap-around balcony opens onto a billiards room to one side. Enjoy the outdoors with lazy afternoons spent in palm-fringed daybeds, or indulge in a soothing massage in the comfort of your own spa pavilion set in the manicured gardens.
KOAMAS KIDZ PARADISE
Laughter spills through the tropical garden, punctuated by the occasional splash from the pool. Here everyone feels free – to play, to discover, to create, to imagine. You smile, knowing that the island is a paradise not only for you, but also for your children. And they can't wait to tell you how they've spent their day.
Sand painting, gecko hunting, mask making – at The Sun Siyam Iru Fushi, kids can expect more than just another day at the beach. The staff at Koamas Kidz Paradise are dedicated to creating endless days of fun, informative and safe activities for kids from three to twelve years old in their own corner of our haven island.
With the area's own dedicated swimming pool kids can splash the day away, safe in the heartfelt care of our expertly trained Kidz Paradise staff. Parents, on the other hand, will have to go play elsewhere on the island, or beyond. But not to worry – at the end of the day, you can get together and see who had the most fun.
THE SPA
A pebbled path winds amidst wild tropical blooms and endless shades of green. Splashes of light filter through the palms, dancing on the rippling water of a gentle stream. Luring you, a faint aroma of sandalwood and jasmine, heady with the scent of the earth. Rounding a curve, a sala appears – a haven of tranquillity, yours to revel in.
With the entire island a sanctuary of natural beauty, there is no need to hide away. Instead The Spa at The Sun Siyam Iru Fushi is an open immersion – in organic earth and vibrant sea – the elements from which Ayurveda draws its centuries-old healing power.
At The Spa we have perfected this ancient holistic tradition, blending its timeless wisdom with contemporary practices found both East and West. Our resident Ayurvedic Doctor guides our guests on their own personalised journeys to wellness both during their stay and beyond. Meanwhile, expert practitioners – in traditional massage, authentic Maldivian-inspired rituals and world-renowned wellness practices – combine finely honed knowledge with a naturally healing touch.
All this in a setting that mirrors the natural splendour of the island.