Experience the Baja California peninsula's breathtaking land and seascapes and see why we are Mexico's leader in Conservation Adventures.
Paddle through dense mangrove canals lush with wildlife and take part in a sea turtle conservation project recognized around the world as a model for community based conservation. You will learn about the importance of the green sea turtle's survival from our base camp on a secluded island. Spend time exploring Magdalena Bay discovering neighboring islands and hiking up pristine sand dunes that lead to miles of untouched beaches. Experience the perfect combination of adventure, discovery and comfort for all ages. (Oct – May)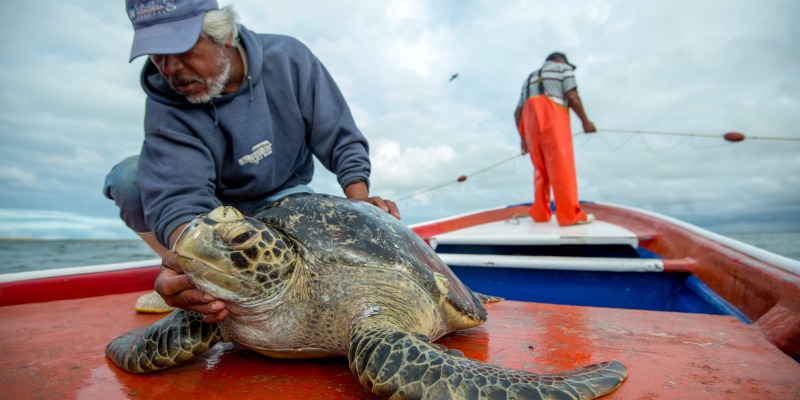 Sea turtle monitoring takes place both during the day and throughout the night. While night monitoring can be an exciting experience, travelers are free to pass the time stargazing or sleeping; the local conservation team will make sure the monitoring happens. So whether you're looking to roll up your sleeves and jump right into conservation, or are content lying on the shell beach daydreaming, this trip will accommodate you. It's your adventure.
Keywords: sea turtles, kayak, mangroves, marine biology, science & research, bird watching, sand dunes, hands on conservation, sustainable community development, stargazing, beautiful landscapes, gourmet cuisine & fresh seafood, cultural exchange, Magdalena Bay, Baja California Sur, Mexico.
Trip Overview
• 5 day expedition
• Hands on participation in world renowned community based seaturtle conservation project
• Activities: stargazing, guided kayaking , mangrove excursion, island exploration, nocturnal dune hikes. Guided exploration of Magdalena Bay and local flora and fauna through mangrove canals
• Genuine cultural interaction with guides and hosts from local fisher community
• Regional cuisine with gourmet flair
• Cooking class with local chef
• Camp facilities include spacious tents with mattresses and bedding
• Trips run October through May. Gray whale observation in February and March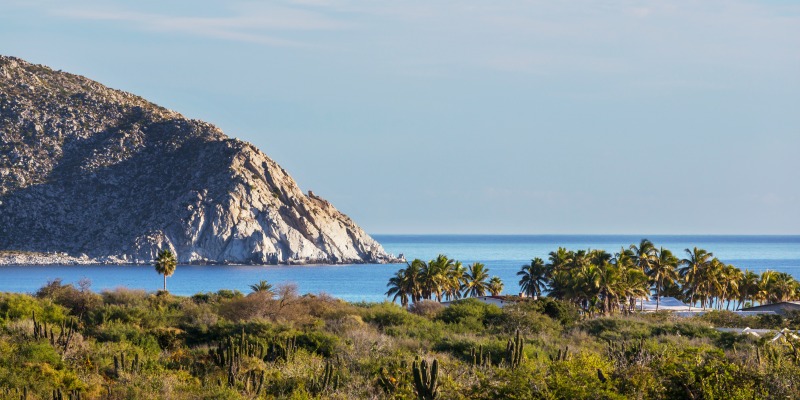 Itinerary
Day
 1:
  Travelers
depart
with
 their
guide
from
 La
Paz
 to Magdalena
 Bay
 (Loreto
 opEons
 available),
 stopping
 en route
 to
 sample
 local
ranchero
 fare.
 AHer
 arriving
 to Magdalena
Bay
(3hrs),
clients
board
pangas
and
head
out to
the
base
camp.
 AHer
lunch
 and

 to
local hosts,
 naturalist
 guides
 present
 a
 detailed
 orientaEon and
 informaEon
 on
 local
 sea
 turtle
 ecology
 and conservaEon
 projects.
 Stargazing
 follows
 dinner
 and
 a good
night's
rest.
Day
2:
 Fishermen
head
out
before
dawn
to
set
driH
nets and
iniEate
the
sea
turtle
monitoring.
Travelers
can
kayak out
to
observe
the
monitoring
 nets
 throughout
the
day and
into
the
night.
The
day
also
includes
Eme
to
relax
or kayak
around
the
Island.
Day
 3:
 The
monitoring
 concludes
and
any
 remaining
 sea turtles
are
released
aHer
being
measured
and
tagged.
In the
 afternoon,
 kayakers
 can
 paddle
 through
 lush mangroves
to
spot
birds
and
marine
life.
Day
 4:
 Travelers
 head
 out
 by
 panga
 to
 visit
 with fishermen
 or
 enjoy
 more
 kayak
 exploraEon
 of
 the
 bay. AHer
 dinner
 take
 a
 nocturnal
 guided
 hike
 down
 the beach
and
through
the
sand
dunes.
Day
 5:
 AHer
breakfast,
 travelers
pack
 up
and
 head
to
a secluded
island
picnic
spot
before
boarding
the
van
back to
La
Paz.
Ideal For
The adventuress traveler and eco traveler.  Sustainable oriented travelings.
RED Sustainable Travel provides world class conservation adventures along the Baja California peninsula and coast of mainland Mexico.Whether gray whales, sea turtles, migratory birds or mangrove forests, RED's ecotours actively support preservation of species and habitat in addition to strengthening communities, celebrating traditional culture, and supporting sustainable fisheries and local economies.Much more than a tour company, RED is a social enterprise focused on conservation and community development.
RED's travel  model is based on:
– Training: Small tourism enterprise management and operation, guiding, tourism services
– Sustainable business planning and incubation: Working with communities to create social enterprises based on principles of financial viability, transparency, and social and environmental commitment.
– Marketing and Sales: Centralized hub to service community enterprises.
In addition, every trip supports sea turtle research and conservation programs and local environmental education programs. 
http://www.redtravelmexico.com/members/travelers/Pre-Trip-Information-Package-Sea-Turtle-and-Kayak-Adventure.pdf
Accommodation
Comfortable upgraded camping & amenities. Tents are equipped with either two singles or one double mattress with linens and pillows. Toilet and shower facilities are environmentally friendly and integrated in the landscape.
Our base camp is situated on Magdalena Island and is accessed and supplied by outboard skiff. With this in mind, we have designed the camp to blend safety, sustainability and comfort.
Our spacious tents are situated among the sand dunes, and provide stunning views of natural land and seascapes as well as local wildlife. Leave your travel pillow at home, as all tents are outfitted with mattresses, linens and blankets. Towels are provided, and our bathrooms and shower are integrated into the
landscape. As we are located in a remote and arid environment we ask that guests respect the surrounding habitat and use water wisely.
RED's friendly local staff will make your experience as enjoyable as possible, and our WFR certified guides are equipped to attend to any medical emergency. Our chefs are happy to welcome you into the kitchen to show off their unique blend of regional cuisine with gourmet flair.
Includes:

ground transportaEon,
boat
transportaEon,
all
meals
starEng
on lunch
 of
 day
 one
and
ending
 on
 lunch
 of
 day
 5,
 drinks including
 wine
 and
 bee r,
 com fo r table
 camp accommodaEons,
taxes.
USD $1,250 per person, based on double occupancy, Add USD $150.00 for single occupancy.
Kids under 11 are entitled to 30% discount with paid adult.
Excludes:
Breakfast on day 1 and dinner on day 5, hotels or transportation prior or after the trip, tips (usually 10‐15% of the trip fee)
Payment:
A 20% deposit is required to confirm booking. Final payment is due to 45 days prior to departure: Fees are not refundable 30 days prior to departure; therefore we recommend that you purchase trip insurance. Kids under 11 are entitled to 30% discount with paid adult.