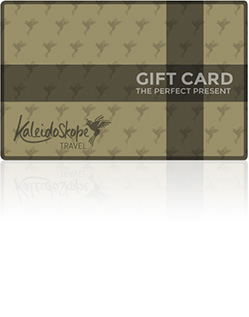 Got a friend or loved one who really needs a vacation? Here's how to help them plan for a future travel date.
Buy a Kaleidoskope Gift Card and receive a special discount on us.*
Our Gift Cards are valid for the next 18 months to apply to any trip that is booked through our site.  Options also to book with our Travel Concierge if you are a LUXE VALISE member.
When you buy a Kaleidoskope gift card, the lucky recipient gets an email with an activation code.
The best part: Your friend doesn't even have to be a Kaleidoskope member — the gift card also works as an invitation to join Kaleidoskope.
* Some offers subject to availability of our partners who offer unique discounts.  
Happy Travels!  
Read our Gift Card Terms.