From North to South, Africa catches the traveler with its scenic beauty, its people and its wildlife. Safaris, expeditions and adventure awaits you on this exciting unknown continent.
Africa holds the secret to a land that encloses an unimaginable number of wonders for all your senses: the opportunity to experience a great adventure in contact with wildlife and fascinatingly distinct cultures. Just some of the highlights you can enjoy in this land full of magic, exoticism with a variety of colors, aromas and flavors.
African Countries: A Passion for Exploring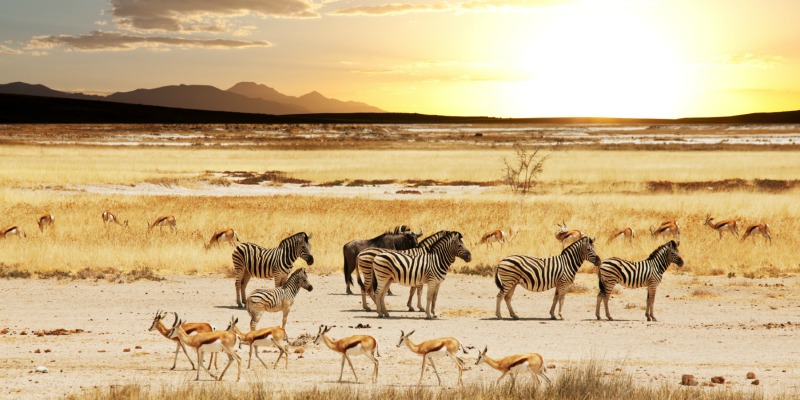 Dominated by the majestic Mount Kilimanjaro, Africa is made up of multiple contrasts of land that share a stunning natural landscape and a unique and rich culture.
The Savannah of Kenya and Tanzania, Victoria Falls, the immense natural parks where hundreds of wild species live such as Kruger, Masai Mara and Okavango Delta… are just a small display of the charms of a territory that few travelers dare to explore, but no one is willing to forget.
The dream of the unknown, the return to the origins and nature at its wildest is desirable. Evoking the days when the first explorers ventured into Masai land in search of the Nile's sources and when sultans controlled the spice route from the beaches of Zanzibar.
Tourism Africa goes back to a magical time, where the lion is still the king, gorillas dominate the top of mountains in Uganda and the snow on top of Kilimanjaro remain over time.
From the endless dunes of Namibia to Victoria Falls in Zambia and Okavango Delta. From the cliffs of the Cape of Good Hope to the Savannas of Botswana and Kruger Park. From the vibrant and modern South African cities of Johannesburg and Cape Town to the nomadic tribes of the Kalahari and the beautiful desert of Namibia.
The southern cone of Africa offers endless spectacular contrasts, which are combined in a unique way to offer travelers a wonderful experience in a beautiful setting.