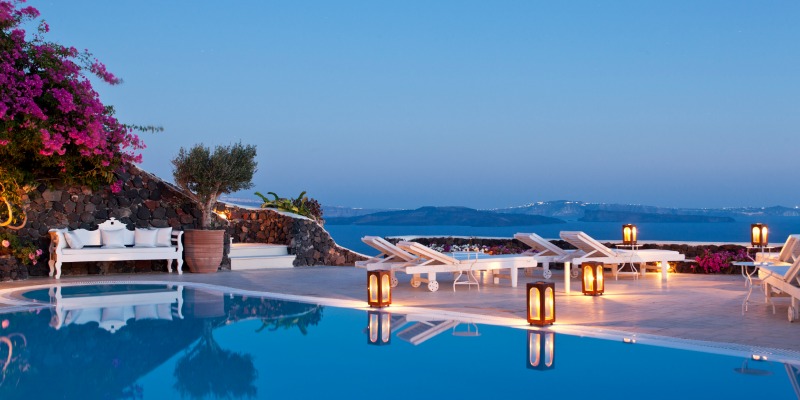 A selection of views of the most beautiful of the GREEK ISLANDS
Perched in the cliffs of Oia lies the luxurious Canaves Oia Hotel. A unique place of utmost beauty and elegance. Most of the suites are renovated 17th century Cave houses. The name of the hotel, Canaves means Caved Houses.
Thirty-eight beautifully decorated suites the Canaves Oia Hotel has two sections: Canaves Oia and Canaves Oia Suites.
Canaves Oia Suites is a place of unique opulence designed and decorated in a traditional style and manor. As you enter the Suites you find yourself travelling back in time, inside an elegant captain's residence. The handmade wooden furniture, the paintings, the small details will take your breath away….
Canaves Oia has just completed an astonishing renovation and it is a very modern, stylish and unique hotel. Spacious, majestic, with white being the dominant color, with a touch of wooden furniture and small colorful accent details…The balconies offer an amazing view of the Caldera and you can enjoy moments of sheer relaxation in your private pool or just gazing out to the beautiful blue seas.
Both sections offer pools facing the Caldera as well as pool bars where you can relax while enjoying a glass of Santorinian wine and watch the sun setting in the deep blue sea. In the Canaves Oia Suites you will find an amazing gourmet restaurant with exquisite tastes inspired by the local cuisine and in the special private dining section you can enjoy a romantic dinner in a setting made for two….
Unique feature of Canaves Oia Suites is the elevator, which is the only hotel with elevator in the island, which is famous for its many, many steps!