By Alexander Verbeek
On one of the few sunny days of this week, I walked in the streets and parks of Ottawa. As a Dutchman in Canada, I can get used to the extreme cold in the winter, but I find it much harder to accept that it takes so long for winter to turn into spring.
It actually feels that there hardly is a season like spring; winter just continues like forever and then suddenly flips into a hot summer. I took this photo today in a nearby park; the trees seem to be in a prolonged winter sleep in mid-April.
Tulip fields
This newsletter is read worldwide, and I expect many of you in Europe and the U.S. will already experience a more flowery green nature. For instance, I saw on social media that the tulip fields in the area where I grew up in the Netherlands have already burst into the colorful carpets that attracted even the great French painter Claude Monet to my village to paint these fields.
Monet made this painting in 1886, during his second visit to the Netherlands. I remember the original windmill on this painting from my high school days when I often passed it on my bike. Our house was along the canal that you can see in the distance. Subscribe
Several decades ago, the relatively small windmill was moved to another location. Monet would have regretted it; he was captivated by the Dutch landscape, and he loved the windmills and tulip bulb fields. This painting was sold in the year that Monet had made it by the art dealer Theo van Gogh. His brother Vincent has likely seen the work. He admired Monet's impressionist technique of fluid brushwork and bright colors. You can also see the painting when you visit Paris, where it is part of the collection in the Musee d'Orsay.
Spring flowers
Today, I searched for color in nature, and I was happy to find more diverse flowers than about a week ago when I discovered my first snowdrops of the year.
I found, for instance, Striped squill (Puschkinia scilloides), an introduced species that is native to the Caucasus and the Middle East. It's a very vigorous beautiful tiny species that will make its way around the garden and even pop up on the lawn. It's hard to imagine, but I read that some gardeners consider this lovely flower a weed.
I often spotted the Siberian squill (or Wood squill), the Scilla siberica today; it pops up everywhere and brings color between the brown leaves that have been well preserved by the snow of this season. But, despite its name, the species is not native to Siberia. Instead, it is native to southwestern Russia, the Caucasus, and Turkey.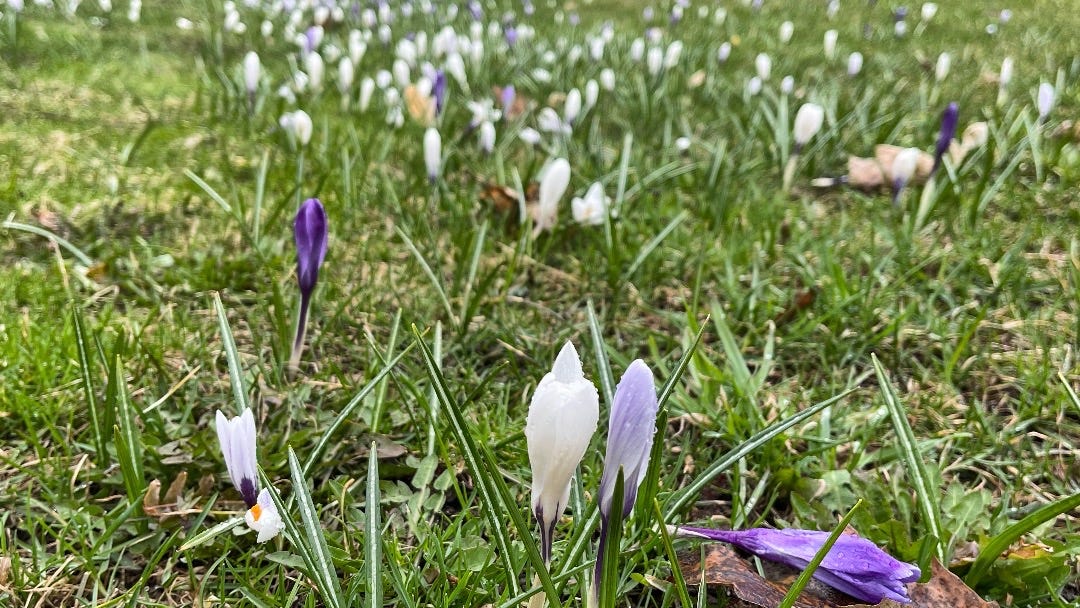 And there were many crocuses today.
I have a question for you (and no, I don't know the correct answer): what kind of flower is this yellow one? I found it blooming next to the road, and I don't recognize it.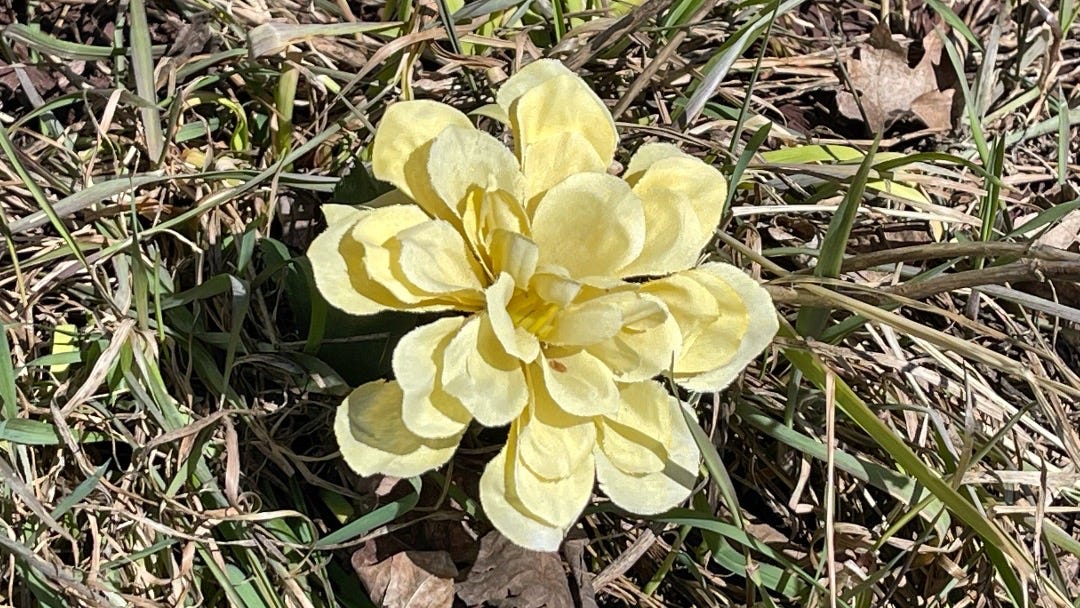 It was such a beautiful day today, but snow is predicted for tomorrow, and Wednesday won't be much different. So I might stay inside and work, but writing these words gave me a springtime feel.
And while I was finishing this article, I read in the National Post that a snowstorm is expected to hit most of southern Ontario this evening and through early Tuesday morning. I just opened my curtain (it is past midnight) and noticed the rain, just as predicted: "The national weather agency says the storm will start with rain before changing over to snow."
Global News interviewed today meteorologist Anthony Farnell who was asked about the prolonged winter conditions this year. He said: "I don't know if it's climate change or just the cycle we are in, but we have had more cold Aprils than usual going back the last decade or so, and then it just turns hot come late May and June and in summers here."
So I guess I will just have to be more patient; summer will come.
---
I write these newsletters, share my photos, do interviews, make podcasts about the environment, and share my travels because I believe that together we can do better on this beautiful but fragile planet.
If you are a paying subscriber: thank you for your support!
Please consider supporting this initiative by taking a paid subscription if you are not.Subscribe
---