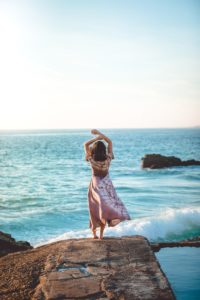 The Travel Industry is on a New Mission: The Mission is Critical
A handful of travel savvy women  decided that raising money for charity and combining it with incentives for  travel experiences would highlight important global issues.   This was over 5+ years ago.
The world has to re-think how to live, work and travel.  The idea of sharing in our human community has to transform itself into something even  better.  The travel industry had reached a point where it was accelerating the demise of the planet.  It was long past time to re-think the industry and all its aspects from transportation to service and sustainability.
We have to re-think what's important in the travel industry: It has to be more than just planning a future vacation and booking endless hotel rooms.  It must be about something important.  Something that inspires the human community to come together for a greater good.  Welcome to Kaleidoskope Travel. 
Dreaming and Inspiration is an integral part of travel no matter how near or far you go.  But I suggest that IMPACT of TRAVEL and SUSTAINABILITY will ultimately affect  how we travel again. Kaleidoskope Travel has always spread the message of sustainability and community  but we were one of a few voices in what is a vast billion dollar industry.
Let's Celebrate our World and its Cultures through Travel + Education About Sustainability
The spirit of cooperation around the world  to keep passengers safe and hotel guests feeling comfortable (According to Conde Nast Traveler) will require standards and transparency.  Bigger, will not necessarily be better.  Home Country Travel will create new opportunity.  The Human Touch expressed in new ways will become an important factor in how we engage with our clients and  travel experiences.  Conde Nast Editors'* suggest that our new set of standards might include these areas of focus for the Travel Industry:
Health and Safety Standards
Communications  & Transparency
Flexibility  for Booking & Customer Service
Innovation and Improvements in the Guest Experience
Civics – Community Minded Support 
Travel Consultants need to do more than book your room. They Help you Curate your Experience.  As Travel Curators  the job is to share ideas and inspirations;  To make sure the partners offer travelers the best experience possible with vetted safety standards and sustainability around the world.   Whether you travel near to your home or across the world the travel industry has upped its game.  This will benefit everyone and the planet as well for a better future.
Editor's Note: 
 We are currently partners with the Hotel Organization,  "Small Luxury Hotels of the World"  who provides our HOTEL PRODUCTS and TRAVEL CLUB AMENITIES. 
*CONDE NAST TRAVELER Editor (USA October 20  Jesse Ashlock, Page 16 printed issue)