A Five Star Favorite in the heart of  Paris
St. James Hotel in Paris 16th is one of the only chateaux hotels and private clubs in Paris.  The decor is ultra stylish.  The bespoke services throughout the hotel are more than luxurious.
The owners requested  the hotel be inspired by late 19th century style mixed with a modernity.  An exclusive decorator was hired to give the restaurants and rooms a unique and eclectic French look mixed with the Belle Epoque.  What does a decorator do for a hotel ?  They create a mood and atmosphere that allows the guests to step into another time and place.  This hotel's style of both a modern and vintage are mixed together in surprising and arresting ways.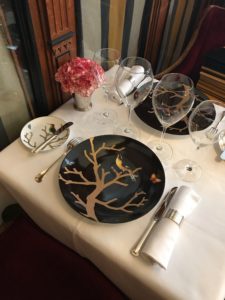 A spa is downstairs for your relaxation and adds to the privacy and enjoyment of your stay and features unique treatments.  A One Star Michelin restaurant offers a unique menu by Chef Jean-luc Rocha.  In the spring and summer the hotel opens its gardens to the public for brunch. This property offers one of the few garden brunches in Paris and is highly recommended.
St. James Hotel Club & Library Bar in an Exclusive Neighborhood
We love the Library Bar and the club atmosphere.  There you can enjoy the delightful mystery of books stacked on the shelves.  A full bar and friendly bartender who will pour you any cocktail you can dream up.   You can return and stay in a new room each time as each one is decorated with a theme and style that is different.  Inspired. Eclectic. Eccentric.  Beautiful.    
For questions about the hotel, feel free to write our Concierge.
This Hotel is Exclusive to our Curator and needs to be booked via:  [email protected]